Home
Membership

Journal

Publications
Talks
Newsletter
The Journal of the Durham County Local History Society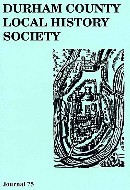 The Journal of the Society (formerly Bulletin) has been published since 1964 and developed as a regular twice yearly publication with a good reputation. David Butler was awarded a prize by the British Association for Local History (BALH) at its Local History Day on 4 June 2011 for his article on the history of Durham Town Hall (published in Journal 75 in 2010) and past articles by Ross Hamilton and Cliff Howe have also had their merit recognised by BALH and the BBC respectively. However, we have had difficultly attracting sufficient high quality contributions in recent years and in May 2011 the Society's AGM agreed that only one Journal a year would normally be published.

Journal 78 was published in July 2013 and includes articles on John Garth by Simon Fleming; The beginnings of the Stella Coal Company by Paul Gailiunas and Middle Rainton - memories of a lost village by John Harvey.
---
All of the files linked to below are saved using Adobe's Portable Document Format (PDF) which, if you wish to print any of them, will appear precisely as they do on screen unlike web pages. To read them you will require Adobe Reader or a suitable plug-in for your browser. If your browser does not have a plug-in to read PDF files, which is very unlikely, you can download Adobe Reader from here for free.
Each of these links will open either a new tab in your browser window or a new window- the exact result depends on which browser you use and how you have it set up. You can also save the files on your own system by right clicking on the link then choosing where to save it.
Titles and authors of all the articles in the Journal/Bulletin can be accessed by clicking here (129k).
A full Index of Bulletin 1 to Journal 70 can be accessed by clicking here (180k).
The Journal editors welcome proposals for new articles and are happy to advise on the form and content. Preliminary advice in the form of Notes for Contributors can be accessed by clicking here.
For questions about the DCLHS Journal e-mail the Secretary of the Society by clicking here.
Or write to him c/o 21 St. Marys Grove, Tudhoe Village, Spennymoor DL16 6LR
---