DCLHS News
Our programme of Autumn talks which are free and open to non-members :-
Saturday 17 September 2:30pm - Philip Dyer : Children of the Pit Villages at the City Theatre, Fowler's Yard, Back Silver Street, Durham City.
Based on his article published in the Society's Journal in 2014, Philip Dyer will talk about the life led by children in some of County Durham's colliery villages in the nineteenth century. Such villages often sprang up on a green field site round a newly opened coal mine with children as young as six or seven put to work underground. As defined by the 1842 Children's Employment Commission report, working conditions were often terrible and Philip looks at how matters improved as the century progressed.
Saturday 29 October 2:30pm - Tim Griffiths: Waggonways and Other Industry: Visitors to Tyneside, 1600 - 1850 at the City Theatre, Fowler's Yard, Back Silver Street, Durham City.
Saturday 26 November 2:30pm - Leo Gooch: The Elizabethan Lord Lumley: Conspirator and Connoisseur at the City Theatre, Fowler's Yard, Back Silver Street, Durham City.
'Singing the Past to Life' - After Dr Charlie Rozier gave us a very successful talk on The Cult of St Cuthbert and the Story of Durham 995-1130 AD members may be interested to look at his 'Singing the Past to Life' project blog. This contains his contact details, should anyone wish to talk about anything or ask further questions.
'Singing the Past to Life' is an innovative Cultural Engagement collaboration which aims to share academic research on Durham's medieval past with local Durham residents through music and drama. The project is build on a partnership between staff at Durham University and Cantata Dramatica: a not-for-profit organisation (charity registration number 1158027) whose objective is to commission and promote new music. Their work is sponsored by the UK Arts and Humanities Research Council, and is coordinated by Durham University historians, Dr Charlie Rozier and Dr Giles Gasper.
George Bowes' Canvassing Books for the Parliamentary By-election in the City of Durham January 1729/30 - the Society's first publication in its documentary series for twenty years, by Elizabeth Fewster, has been well received. Click to see the review by Dr Sarah Rose in the British Association for Local History publication The Local Historian, April 2016, vol. 46, no. 2.
Other Events
A series of exhibitions and events to commemorate the 100th anniversary of the Battle of the Somme in July 1916.
25th Mar - 2nd Oct at Palace Green Library An exhibition on the Somme 1916 - from Durham to the Western Front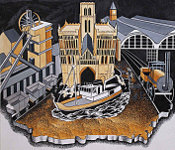 Durham County Local History Society
The Society is a registered charity (no. 235597) formed in 1964 to encourage and promote interest in the study of the history of County Durham.
It particularly focuses on recent centuries when County Durham was playing a major part in the economic and industrial growth of Britain and also making its individual contribution to the social, religious and political development of our country.
The Society attends events promoting local history, issues a range of publications, arranges occasional talks free to non-members and maintains this website.
The Journal, available free to members, includes original contributions on Durham's history, articles on sources and reviews of books.
Other publications, covering original research on a wide range of local topics, are made available to members at reduced prices.
If you have any questions about DCLHS you can contact the Secretary Dr John Banham on 01388 816209, e-mail by clicking here or write to him c/o 21 St. Marys Grove, Tudhoe Village, Spennymoor DL16 6LR
Current Subscription Rates
Due on 1st April 2016
Ordinary Members
£15.00
Students
£5.00
Joint Members (at the same address)
£18.00
Institutions
£20.00
See our Membership page for details of how to join the Society.
History & Publications
Research into the history and people of County Durham.
Our Journal Editor, Dr Mark Egan, would like to hear from members interested in writing for the Journal, who have suggestions to make about the Journal's format and contents or who wish to suggest subjects to be covered and possible authors (details on the Publications page).