News
NEW SEASON, NEW VENUE On 12 March 2016 at 2.30 pm DCLHS is reviving its seasonal talks' series in a new venue.
THE TALK : 12 March 2016 at 2.30 pm - David Butler
Magnificence and Immensity even in Death – the death and funeral of George Bowes.
David Butler, a well-known historical researcher and speaker, was formerly Durham County Archivist. David has been researching George Bowes for a number of years using letters in the Strathmore Papers held in Durham County Record Office.
George Bowes (1701-60), an ancestor of the late Queen Mother, was one of County Durham's first coal magnates as well as a local politician. Bowes was the crucial figure in the development of the landscape at Gibside. On his death in September 1760, he was first buried at Whickham parish church and then reburied in the chapel crypt at Gibside in 1813. This talk tells the story of George Bowes' death and two burials. Gibside Chapel can be viewed on a visit to the National Trust run estate but the crypt is only open on Heritage Open Days.
David Butler has written an article related to George Bowes in the recently published DCLHS Journal 80 entitled : May Heaven preserve you for the Benefit of your Country … : the correspondence of Gilbert Dawson and George Bowes, December 1728-December 1734
The Society has also recently published George Bowes' Canvassing Books for the Parliamentary By Election in the City of Durham January 1729/30 by Elizabeth Fewster.
Copies of the two publications will be on sale at the meeting priced £5.00 and £6.00 respectively.
This is a free event with non-members welcome.
THE VENUE : The City Theatre, Fowler's Yard, Back Silver Street, Durham City. Durham Dramatic Society bought this building at the bottom of the Indoor Market in 1950 as club rooms in which to rehearse and converted it into a theatre in 1986. The auditorium seats 70 and the History Society is looking forward to working with the Dramatic Society by planning a series of Saturday post lunch talks, details of which will be announced shortly.
Access to the theatre on foot is via Walkergate (steps from the Market Place or Claypath) or via steps from Silver Street (next to Cottons). Parking is available in Freeman's Place or in the multi storey Walkergate and Prince Bishops' car parks. Non-members are welcome and tea/coffee will be available to buy at the Theatre bar.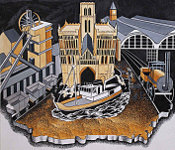 Durham County Local History Society
The Society is a registered charity (no. 235597) formed in 1964 to encourage and promote interest in the study of the history of County Durham.
It particularly focuses on recent centuries when County Durham was playing a major part in the economic and industrial growth of Britain and also making its individual contribution to the social, religious and political development of our country.
The Society attends events promoting local history, issues a range of publications, arranges occasional talks free to non-members and maintains this website.
The Journal, available free to members, includes original contributions on Durham's history, articles on sources and reviews of books.
Other publications, covering original research on a wide range of local topics, are made available to members at reduced prices.
If you have any questions about DCLHS you can contact the Secretary Dr John Banham on 01388 816209, e-mail by clicking here or write to him c/o 21 St. Marys Grove, Tudhoe Village, Spennymoor DL16 6LR
Current Subscription Rates
Due on 1st April 2016
Ordinary Members
£15.00
Students
£5.00
Joint Members (at the same address)
£18.00
Institutions
£20.00
See our Membership page for details of how to join the Society.
History
Research into the history and people of County Durham.