DCLHS News
George Bowes' Canvassing Books for the Parliamentary By-election in the City of Durham January 1729/30 - the Society's first publication in its documentary series for twenty years, by Elizabeth Fewster, has been well received. Click to see the review by Dr Sarah Rose in the British Association for Local History publication The Local Historian, April 2016, vol. 46, no. 2.
Saturday 25 June at 11 am - The 52nd Annual General Meeting of the Society will be held in the Council Chamber, County Hall, Durham DH1 5UL. Following the AGM will be the David Reid Memorial Lecture
Saturday 25 June at 1.15 pm - The David Reid Memorial Lecture - Alan Heesom : Buddle and Londonderry : An Unlikely Partnership? in the Council Chamber, County Hall, DH1 5UL. The lecture will be given by Alan Heesom, a long standing member of the Society and a former Editor of our Journal. Alan is now retired from the History Department at the University of Durham and is an Honorary General Editor for the Surtees Society, including Volume 217, Letters of John Buddle and Lord Londonderry 1820-1843, edited by the late Anne Ord. Alan has studied the Londonderry Papers held at Durham County Archives for over 40 years. The talk is free and open to non-members.
Buffet Lunch £5. If you would like to partake of the buffet lunch we offer between the AGM and the David Reid Memorial Lecture you will need to book a ticket by writing to the Membership Secretary and sending him a cheque covering the cost of the number of tickets you require. Please make cheques payable to : Durham County Local History Society and send a stamped/addressed envelope to :
Mike Robson, DCLHS, 2A The Links, Belmont, Durham DH1 2AG
by Friday 17 June 2016. You will then receive a ticket for the buffet, which will start at approximately 12 noon following the AGM.
Saturday 16 July at 2.30 pm - Dr Charlie Rozier : The Cult of St Cuthbert and the Story of Durham 995-1130 AD at the City Theatre, Fowler's Yard, Back Silver Street, Durham City. Dr Charlie Rozier, who is the Arts and Humanities Cultural Engagement Fellow in the Department of History at Durham University, will use his talk to introduce the life and works of Symeon of Durham, a Norman monk. Symeon rewrote the history of St Cuthbert's life and cult in his History of the Durham Church, which he completed in 1115. Symeon wove written and oral traditions from the Anglo-Saxon past into a new story which was more relevant to an Anglo-Norman present. Using images of manuscripts written by Symeon and artefacts which guided his views on the past, Charlie Rozier aims to explain our own views of St Cuthbert's cult and its place in Durham's history and engage with the narrative to be presented in the forthcoming Open Treasures exhibition, which is hosted in Durham Cathedral from 23 July onwards.
Other Events
25th Mar - 2nd Oct at Palace Green Library An exhibition on the Somme 1916 - from Durham to the Western Front
Saturday 11 June - Whickham History Day. At the Society's inaugural talk at Durham City Theatre about George Bowes of Gibside, who was originally buried in Whickham Parish Church, Richard Pears, Secretary of the Whickham History Society, invited DCLHS members to a 40th Anniversary History Day. Everyone who attends will receive a free copy of a new book on Whickham history, commissioned specially for the anniversary. If you wish to attend please complete the application form and send it to : Mrs T Rix, 11 Sunnidale, Whickham, Newcastle upon Tyne, NE16 5TT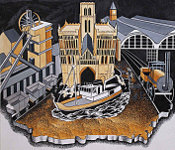 Durham County Local History Society
The Society is a registered charity (no. 235597) formed in 1964 to encourage and promote interest in the study of the history of County Durham.
It particularly focuses on recent centuries when County Durham was playing a major part in the economic and industrial growth of Britain and also making its individual contribution to the social, religious and political development of our country.
The Society attends events promoting local history, issues a range of publications, arranges occasional talks free to non-members and maintains this website.
The Journal, available free to members, includes original contributions on Durham's history, articles on sources and reviews of books.
Other publications, covering original research on a wide range of local topics, are made available to members at reduced prices.
If you have any questions about DCLHS you can contact the Secretary Dr John Banham on 01388 816209, e-mail by clicking here or write to him c/o 21 St. Marys Grove, Tudhoe Village, Spennymoor DL16 6LR
Current Subscription Rates
Due on 1st April 2016
Ordinary Members
£15.00
Students
£5.00
Joint Members (at the same address)
£18.00
Institutions
£20.00
See our Membership page for details of how to join the Society.
History & Publications
Research into the history and people of County Durham.
Our Journal Editor, Dr Mark Egan, would like to hear from members interested in writing for the Journal, who have suggestions to make about the Journal's format and contents or who wish to suggest subjects to be covered and possible authors (details on the Publications page).